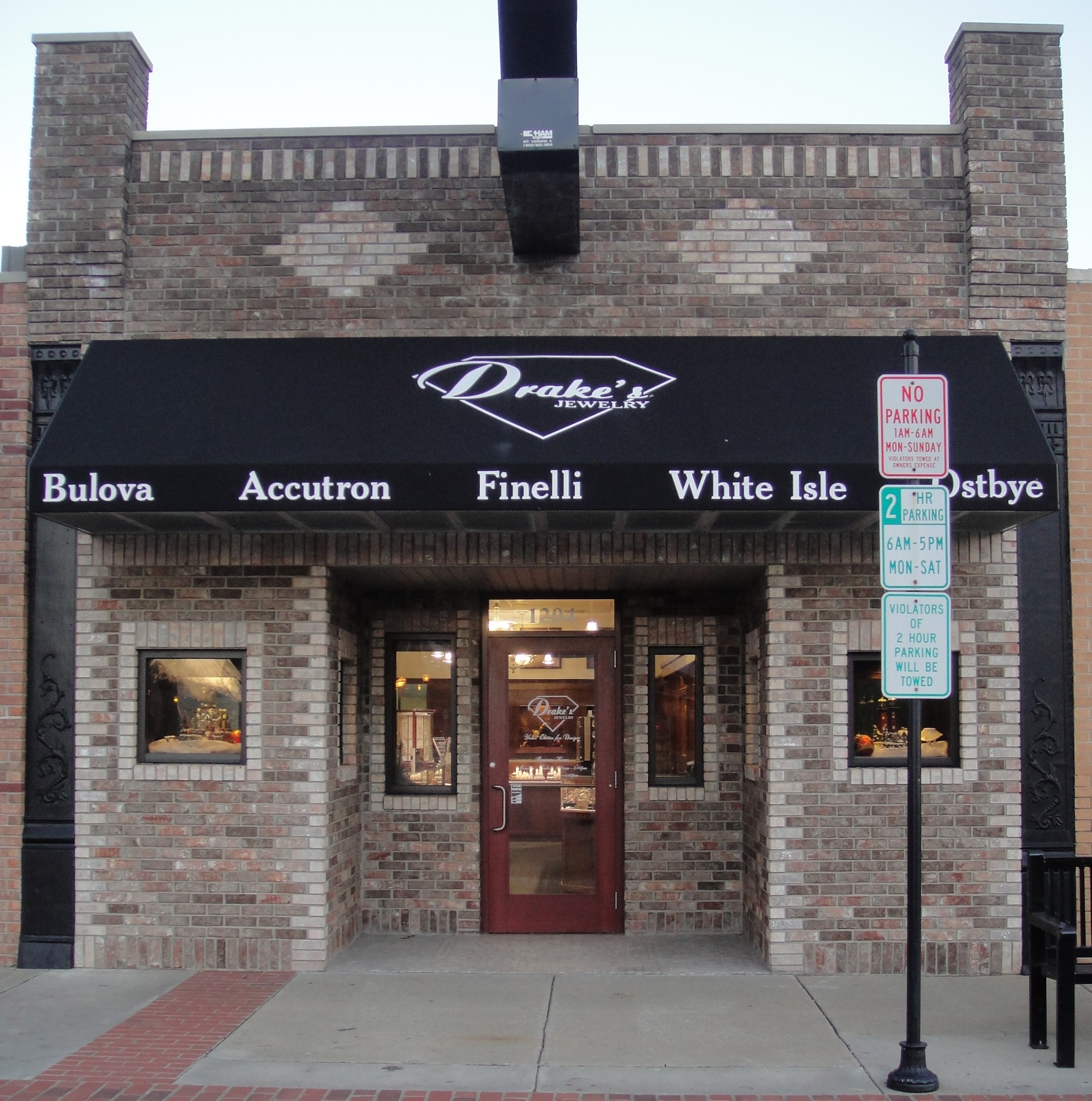 In order to tell our story, we have to start with the rich history of our building and location. The property was first purchased in 1844 for $255.00. It wasn't until August of 1905 that the two story brick building would be constructed, and in May of 1934 that Don Akin purchased the building and opened Akin Jewelry. In 1939 he remodeled the building inside and out in the art deco style, making it one of the most unique jewelry stores in the area. Throughout his many years in business, Don served his community with honesty and integrity.
After completing my education in the Jewelry Arts from the Jewelers Institute of America, the International Gemological Institute, and working as a jeweler for another store, I finally decided to open my own business. In July of 1991 I acquired the Akin jewelry store and opened Drake's Jewelry. After being in business only a few short years, the building next to us, housing three businesses, caught fire - completely destroying the neighboring building and damaging our second story.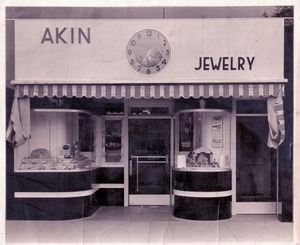 Although the fire never made it into the jewelry store, the water damage was extensive. After much debate, the decision was made to stay in our current location. We purchased the property and building from Don Akin. Then we began the task of completely renovating the building. The top story was removed, and the jewelry store was completely gutted down to the bricks and rebuilt new. The only thing remaining was the original art-deco front. Throughout the years we've strived to grow our business through custom craftmanship and quality service. We have enjoyed success in jewelry design contests, from Best in Show to 1st Place in the 2000 Millennium Manufacturing Award. We take pride in new creations, putting Southern Illinois on the map. In 2007 the time had come to tackle the renovation of the deteriorating art-deco front. Our goal was to keep the design rooted in traditional hometown charm. We researched city jewelry store fronts from the early 1900's and sat down and hand sketched our version of a quaint little jewelry store that has stood for 75 years.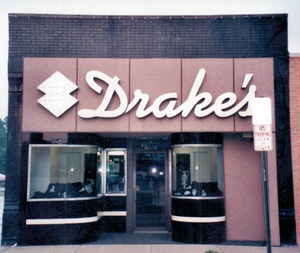 Over our 30 years in business, we've seen downtown America decline. Giant retailers and big box stores have dominated the landscape. We feel our success is due to our commitment to customer service and quality products. As the old saying goes, no two diamonds are alike, and no two pieces of jewelry are crafted equally. We hand select and work on each and every piece of jewelry to provide our customers with the highest quality at the most affordable price. We keep current with the latest trends and fashions, and use only the latest technology and equipment. Here at Drake's, unlike other places, you can come in at any time and visit with one of the owners. We consider all our customers our friends. Our commitment has been and will always be to our customers, community, and region. We've proudly served Southern Illinois for 32 years and would love the opportunity to serve you for another 32.
Our award-winning designers use precious metals and unique gems to craft epic one of a kind pieces. For over 32 years we have been a local, family owned business. We continue to build our business based on our commitment to quality and satisfied customer referrals. Welcome!
Thank You, Drake & Tabitha Miller